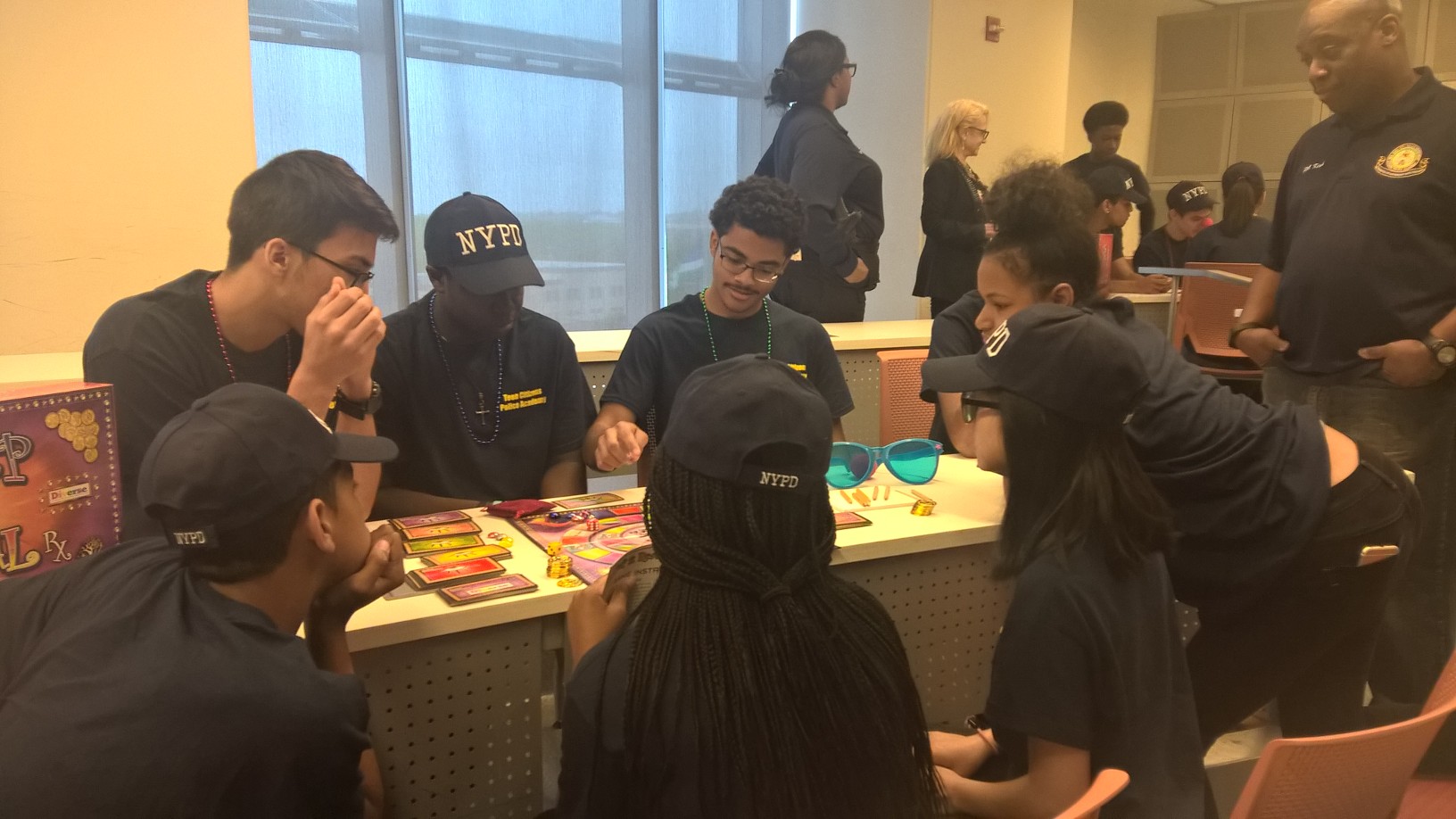 Utilized in over 100 Boys & Girl's Clubs, High Schools, Youth Programs, Youth Prisons, High School Guidance Counselors, Church Youth Groups, OASAS Youth Clubhouses, Recovery High Schools, Alternative High Schools, Residential Treatment Programs, etc.
Playing this game is an ideal way to help teens to acquire communication, listening, social, emotional, and life skills, while promoting positive interaction with their peers.
"It gets the conversation flowing. The students really took to it. They really opened up. It got deep, and when you start playing, you stop playing, almost, because you get into the conversations so much. Whenever you want to bring the truth out, this is the game to play. It just makes people closer together, like family."
~ Archie Berwick, Volunteer, Student Venture
"For the two hours the youth played the Keep It Real game, they were free, their minds were free. They could forget they were in prison and could relate to one another. I believe this game could help to reduce violence among the adolescent population."
~ Officer Small, Riker's Island Correctional Facility
"I've had the pleasure of working with Leslie, and the Keep it Real game for several years. Playing Keep It Real with 16 - 18-year-old inmates at Rikers Island adolescent facility was an incredible experience.  Watching young men express their thoughts and feelings, coupled with the laughter and even sporadic dancing, have proven to me that this game changes lives of all ages."
~ Kian Brown, Branding & Media Consultant, The Brand Elevator
"High school students are living in a culture where communication occurs via the internet and text messaging.  True and genuine communication seems rare nowadays.  The Keep It Real game will challenge students to think beyond their limited experience, to dream, to joke, to laugh, to create a culture of transparency and vulnerability.   This is by far the greatest strength of this game, namely transparency, for when this is accomplished, youth can be who they are; not who they think they should be. They can Keep It Real!"
~ Moses Sanchez, Youth Minister Student Venture NYC
"I am writing to endorse the Keep It Real board game. We have utilized the board game this past year in a variety of settings with teens at our Club. We have used it before or after special events/ trips as an ice breaker or group exercise for teens. We have used it in conjunction with our Smart Girls and Passport to Manhood programs, as Well as with our Keystone Club.

Even with Keystone, the game helped the teens become better connected.

The Keep it Real game is a unique communication game which has proven to be a wonderful asset to our youth programming and organization goals. l believe the Keep lt Real game will assist your staff in quickly and easily creating and facilitating positive and productive environments in their Clubs."

David E. Anderson, Executive Director of Boys and Girls Club of Trenton and Mercer County
"At our Student Venture high school student Christian retreat, we played the Keep it Real game with 100 of our students, in place of a seminar. A lot of the students didn't know one another, or they might go to the same school together and still didn't know each other, or maybe   didn't like each other. Everyone had to participate and interact because it was mandatory, but then as they started they wanted to keep going – even after the session was over. They were like "Where can I get this game? It's so cool." They really took to it. It really gets you to the insides of peoples' hearts and minds. It was definitely perfect for this retreat because we have a lot of tough people here, but when they saw their peers interacting and opening up, they said, alright, well maybe I can if this person did it. The students really opened up, it got deep, and when you start playing, you stop playing, almost, because you start getting into conversations so much. Also the volunteers and leaders played in our free time. The last night of the retreat, all of the volunteers and leaders stayed up from 11:00 p.m. till 3:00 a.m. laughing and playing the Keep It Real game, we didn't want to stop. It really helped us to bond and to connect as a team of leaders. It brought everyone at the retreat much closer together, like family."

Oneka Kelly, Student Venture, NYC
A Unique Chance to Grow & Evolve
Start the dialogue that builds trust and mends bridges.
Facilitate your own Keep It Real workshop on your campus, in your organization, or for your community: